ABOUT US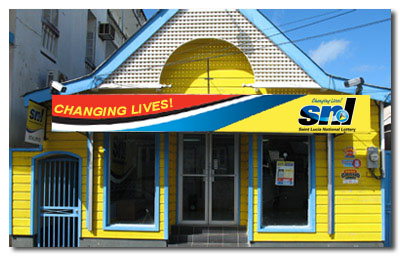 Lottery Sales Office on Coral Street, Castries.
The National Lotteries Authority (NLA) came into existence as a Statutory Corporation on 31st December 1998. This was occasioned by the coming into effect of the National Lotteries Authority Act No. 27 of 1998. The NLA replaced a previously existing entity known as the St. Lucia National Lottery (SNL).
However, even before the advent of the SNL, there existed in St. Lucia the Instant Money (Scratch) Games which were run by the Windward Islands Cricket Board, under the direction of then President – Mr. Julian R. Hunte.
This initiative operated quite successfully, until government decided to stop the Cricket Board and implement its own exclusive lottery, ostensibly to broaden assistance to sports. Thus, from October 1985 until 31st December 1998, the St. Lucia National Lottery – a creation of Cabinet Conclusion No. 1249 of 1984, operated the Instant Money (Scratch) Games in St. Lucia.
In 1993, Canadian Banknote (CBN) the technology provider introduced the "diskette system" to the SNL which allowed for the introduction of the game Lotto. This was St. Lucia's first big jackpot game and it brought about increased interest and participation to the Lottery. Later Canadian Banknote (CBN) provided the lottery with a "Store and Forward" system which gave birth to the Daily Number game 3D, which brought further diversity to the lottery products offered. The store and forward system for Lotto was introduced in 1996. Two years later, in early 1998, 3D was discontinued, and replaced by the present Lucky 3 game in November 2002.
Canadian Banknote (CBN) who have been partners with the National Lotteries Authority from its inception as the sole technology provider, has as of February 12th, 2005 taken over as the manager and operator of the St. Lucia National Lottery under a 20-year management contract and the name CBN St. Lucia Inc. This particular arrangement developed as a result of negotiations with the Government of St. Lucia. This venture is not new to Canadian Banknote (CBN) as they currently manage several other Lotteries throughout the Caribbean and the wider world. CBN St. Lucia Inc. is tasked with transforming this lottery into a more modern and efficient Lottery with more games and bigger prizes for patrons.
Draws are held from Monday to Saturday at 1:30pm and from 9:00pm on evenings. If you've missed any of our Daily Draws just clik here for access. We understand that you may not always be available during draw times, hence the effort to bring convenience to you.
You also have an opportunity to watch our promotional events and marketing activities. It is important to us that our players and viewers alike recognizes and understands what we do to make our games exciting and attractive. We design promotional and marketing activities to encourage persons to play and at the same time reward them for their participation.
Watch Daily Draws and other Media Productions on our social channels.
GAMES
With so many games to choose from and so many chances to win the possibilities are endless.
Double Daily Grand Match four numbers from 1-22 and you canwin up to $2000 everyday, Monday to Saturday! Tickets cost EC$2.00. The topprize is not shared. The prize money also rolls down if no ticket matches all 4 numbers and match 3 winners each receive $40.00, double the prize! More details.

Tic Tac Toe A quick pick game drawn from Monday to Saturday. Tic Tac Toe ticket a randomly selected set of nine (9) numbers from a pool of 21 numbers (1-21) in the standard three-by-three (3 x 3) Tic-Tac-Toe matrix. More details.

3 Choose 3 numbers from 0-9, select the bet and method of play. Bets start from $1.00. There are Seven (7) ways to play Lucky 3 including the EZ Play Option. Lucky 3 is drawn twice daily, Monday to Saturday. It's an all-time favorite! More details.

Play To win the jackpot select 4 numbers from 1-30 and a Power Pick number from 1-5. Tickets cost EC$2.00 and the growth of the Jackpot is determined by player participation and the sales at each draw. There are 6 different ways to win including a FREE ticket by matching the FREE ticket letter. More details.

Scratch Win CASH instantly! There are now soooo many games to choose from with St. Lucia National Lottery. Buy and redeem your tickets at any lottery agent. Ticket prices start at $3.00 and you can even win a whopping $350,000 with our $20 scratch 'Big Money Game'. Look out for new and exciting games at any of our agents island wide. More details.

Super 6 A combined initiative of the Windward islands, St. Lucia, St.Vincent, Grenada and Dominica, Super 6 carries starting Jackpot of EC$200,000.00. That's the minimum you can win on every EC$3.00 ticket. Match 6 numbers from 1-28 to win the jackpot. Get a FREE ticket by matching the FREE ticket letter. More details.

Big 4 An exciting new addition to SNL's game portfolio. It is played six days a week Mondays to Saturdays. Simply choose four digits from 0-0-0-0 to 9-9-9-9, select the amount you want to bet and choose the play method from the option available. More details.

1-Off Now you can win even if you're 1- OFF. That's right! 1- OFF is the all new and exciting game from the St.Lucia National Lottery. As we continue to reflect our dedication to our players by creating games which provide opportunities to change lives, we're giving you exactly what you've been asking for. Ever felt the disappointment of being off by just one number? Soooo close yet still so far. We're excited to announce that these days are now over! More details.
All games carry a QUICK PICK option which is a random selection of numbers by the terminal.